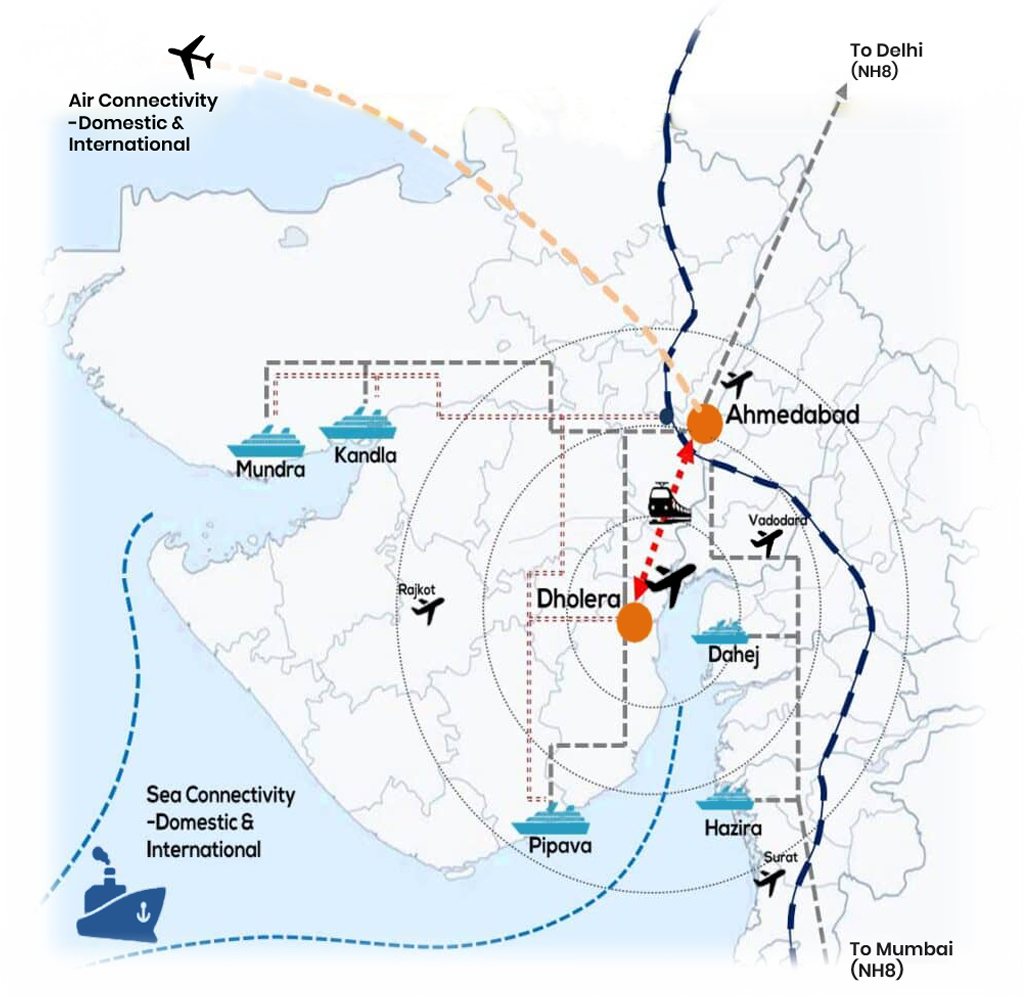 welcome to our
Ahmedabad Dholera Expressway
Ahmedabad-Dholera Expressway: Vehicles have started filling up on the initial section of Delhi-Mumbai Expressway from February, the expressway is likely to start by the end of this year. Another big expressway is going to start in the country soon after this expressway. Ahmedabad-Dholera Expressway will open for vehicle drivers by January 2024. The 109-km-long expressway project started in 2021 and has completed 30 percent of its work by February 2023. This expressway will connect Ahmedabad to Greenfield smart city Dholera. This expressway is going to be a very special expressway in many cases. The full width of this expressway will be 250 meters. Vehicles will run at 75% of this and 25% will run high speed rapid rail in the future under Regional Rapid Transit System (RRTS).
The Ahmedabad-Dholera Expressway is intended to connect Ahmedabad, the largest city in Gujarat, with Dholera, a major upcoming industrial hub and the site of the ambitious Dholera Special Investment Region (DSIR) project. The expressway is expected to provide better connectivity and transportation infrastructure between Ahmedabad and Dholera, facilitating industrial and economic development in the region.
The project was initially proposed as part of the Delhi-Mumbai Industrial Corridor (DMIC) project, which aims to create a dedicated industrial corridor between Delhi and Mumbai. The Ahmedabad-Dholera Expressway is envisioned as a key component of this corridor, serving as a link between the DMIC and the DSIR.
The expressway is expected to reduce travel time between Ahmedabad and Dholera significantly, improving accessibility for industries, businesses, and commuters. It is also likely to boost trade and investment in the region by enhancing connectivity with the rest of the state and neighboring states.
Explain that Dholera is being developed as the country's first Greenfield smart city. This city is being developed all means of transportation. It will be connected to port, roads, metro and airports. Ahmedabad-Dholera Expressway will play a very important role in this development. This expressway will accelerate industrial development along with giving fast-speed connectivity between Ahmedabad and Dholera. After it starts Ahmedabad to Dholera can be reached in just one hour. It takes two and a quarter hours to get this distance from other routes right now.
4200 crores will be spent:
Explain that the total cost of the Ahmedabad-Dholera Expressway project is Rs 4200 crore. Around 20 lakh metric tonnes of solid waste and 25 lakh metric tons of ash emitted from heat power plants is being used in the region of Ahmedabad to build the expressway. Construction of this high speed multi-model corridor will not only reduce the distance between Ahmedabad and Dholera, but also give new speed to Gujarat's industrial development. Dholera has now become a part of the Delhi-Mumbai Industrial Corridor. So this city is tempting investors. It is expected that Ahmedabad-Dholera Expressway will play an important role in the development of the country after it is ready.
Be Smart and Invest in Smart City "Dholera" near Ahmedabad- The Future Silicon Vally of India.