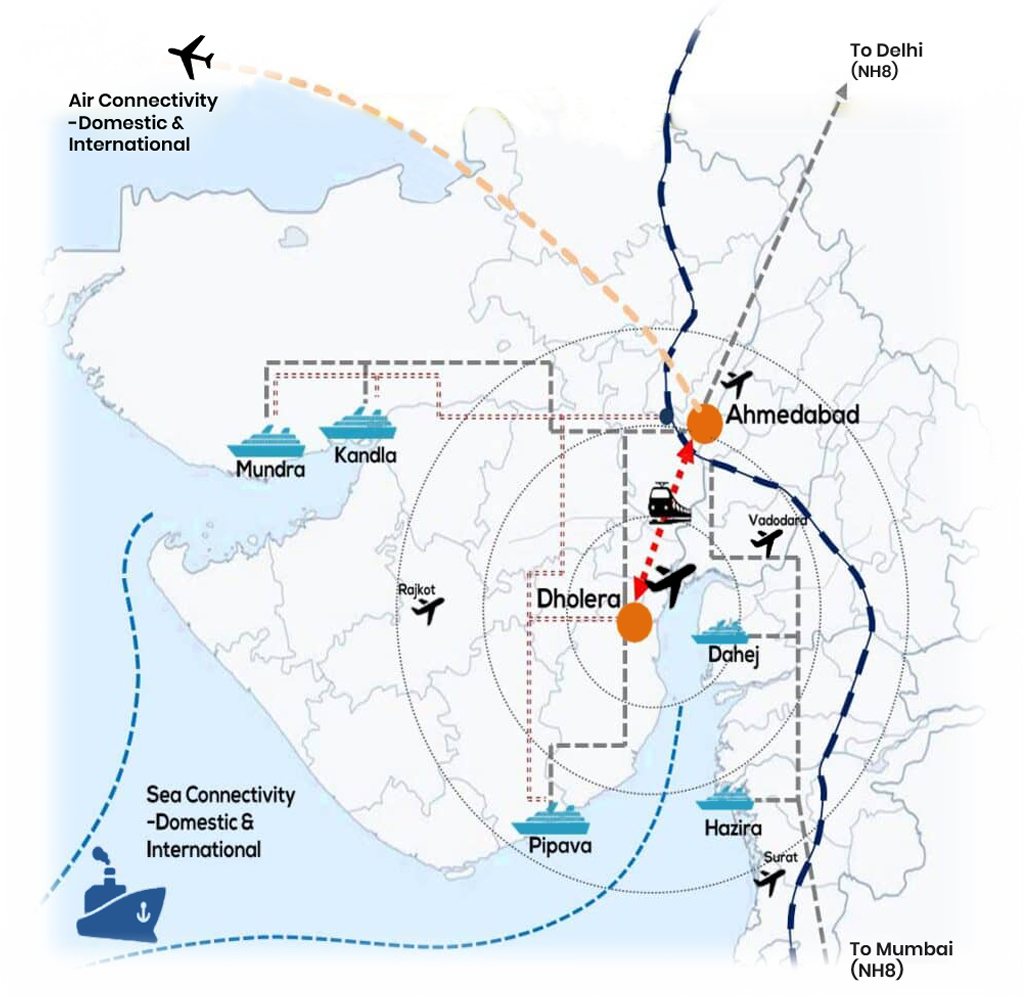 welcome to our
Unveiling the Gateway to India's Future
Dholera International Airport at Navagam village near Ahmedabad, Gujarat is being developed by the Airports Authority of India (AAI) with a multi-phase master plan to ultimately handle 50 million passengers per annum in the future.
The greenfield airport is being developed in Saurashtra within the Dholera Special Investment Region (DSIR) as part of the Delhi Mumbai Industrial Corridor (DMIC). The airport will feature an aerocity with 75 hectares for commercial developments, cargo facilities and ultimately two runways – 3200 m and 4000 m long.
In 2021, the Airport Authority of India released a Rs. 987 crore tender for Phase 1 of airport project. The airport will have a 3,200 metre long runway suitable for 4E category aircraft. The airport is expected to cater to not only DSIR and its hinterland, but also to traffic overflow from the Ahmedabad international airport. The Gujarat government has allocated 1427 hectares of land for the said project and 75 hectares of government land, has been allocated for commercial development.
Dholera Airport's Phase 1 is expected to be completed and opened in March 2025 (current deadline).
Area: 1426 hectares
Estimated Cost: Rs. 1,378 crore (Phase 1)
Nodal Agency: Dholera International Airport Company Ltd. (DIACL)
Owner & Operator: Airports Authority of India (AAI)
Architect: Yet to be Appointed
Civil Construction Contractor: Yet to be Appointed
Dholera International Airport, located in the state of Gujarat, India, is set to revolutionize the country's aviation sector and propel it into the future. As an integral part of the ambitious Dholera Special Investment Region (DSIR) project, this state-of-the-art airport holds the promise of becoming a significant global transportation hub. With its strategic location, advanced infrastructure, and sustainable design, Dholera International Airport is poised to bring tremendous economic growth and development to the region. This article delves into the key features, benefits, and potential impact of this transformative aviation project.
Dholera International Airport is strategically situated in the Dholera Special Investment Region, approximately 80 kilometers southwest of Ahmedabad, Gujarat's largest city. Its location near the Delhi-Mumbai Industrial Corridor (DMIC), one of India's most ambitious infrastructure projects, positions it as a crucial link between the major economic centers of Delhi and Mumbai. This strategic positioning makes it a prime choice for business travelers, cargo transportation, and connectivity to other parts of the world. Development of New Greenfield Airport at Dholera, Ahmedabad (Gujarat). Phase-1. Detailed Designing, EPC of Airport infrastructure of operational area for 4E category operation of Airport i.e. Runway, Taxiway Apron, Perimeter Road etc., including associated Electrical works.