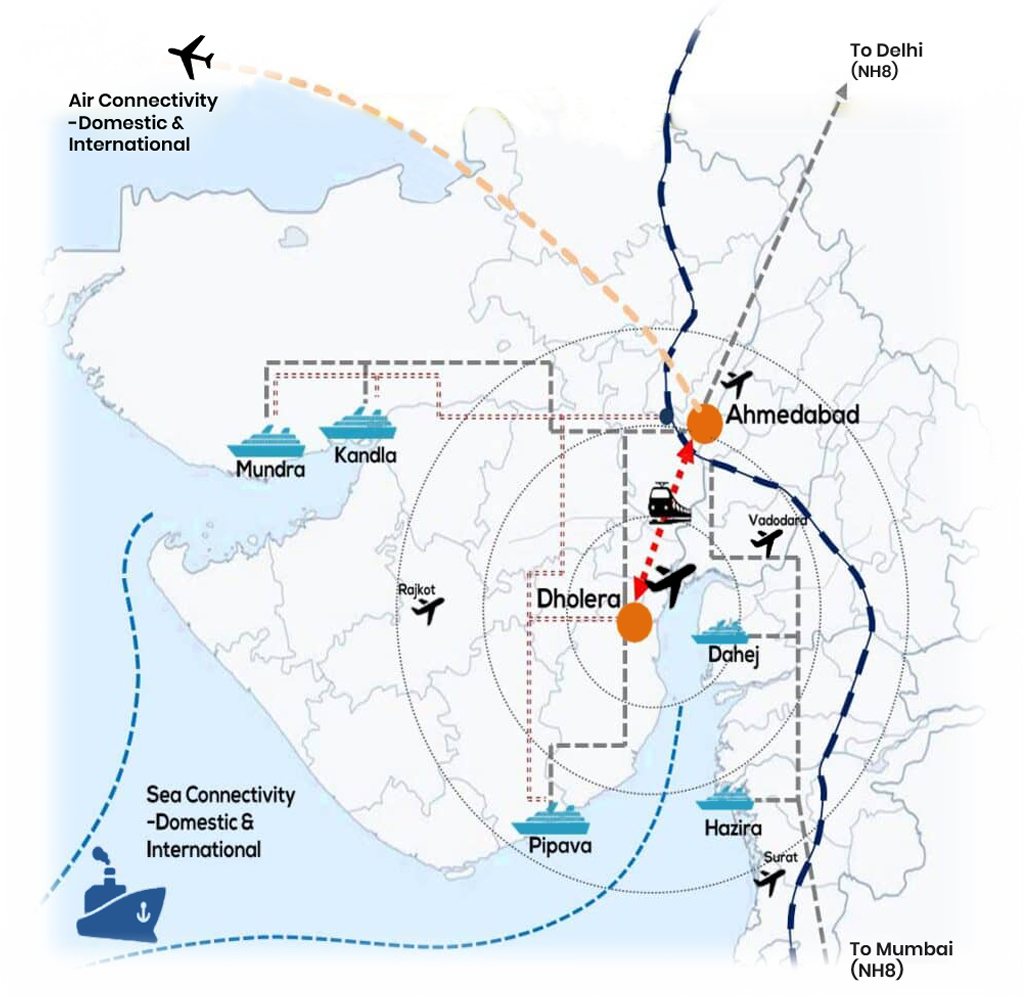 welcome to our
Dholera Metro Rail
The rapid metro rail task is a goal-oriented endeavor attempted by the legislature of Gujarat to associate the shrewd city of Dholera SIR to Ahmedabad toward one side and Gandhinagar on the other. Notwithstanding improving the availability to the SIR locale, the metro rail will likewise demonstrate instrumental for the accomplishment of the new Dholera universal air terminal.
A proposal to develop a high speed metro rail that shall pass through Ahmedabad-Dholera-Gandhinagar was submitted under the DMIC master plan and approved by the central government. The project intends to augment the regional connectivity with Gujarat Dholera smart cityand develop a high speed urban transport system that shall links Gujarat to the international airport, urban centres, main railway stations and bus depos of Dholera. Linking up the metro with Dholera international airport shall play a vital role in the success of the airport.
The project shall be divided in two phases with phase 1 connecting Ahmedabad to Gandhinagar while phase 2 shall link Gandhinagar to Dholera Smart city via GIFT city. Spanning 100 kilometers in length, the first phase of the project shall be built over 61.55 kms while the second phase connecting Dholera shall cover the remaining 38.45 kilometers. The following shall be the route map for both phases.
The Dholera Metro Rail project is set to revolutionize transportation in Dholera and contribute to its overall development. With its extensive network, the metro will ensure seamless connectivity, boost the economy, and reduce the carbon footprint. The project's successful implementation will not only benefit the residents of Dholera but also attract investors, businesses, and tourists to the region. By embracing sustainable and efficient transportation solutions like the Dholera Metro Rail, Dholera is paving the way for a brighter future and setting an example for other cities in India and beyond.
Key Information:
Project Name:Dholera Metro Rail Project
Govt. of India and Govt. of Gujarat
Operator: Gujarat Metro Rail Corporation
Project Type: Mass Rapid Transit System (MRTS)
Project Cost: INR 7,000 Croresr
Total System Length: 100 km
No. of Phases:2 (4 Lines)
Funding Pattern: Govt. of India (20%), Govt. of Gujarat (20%) and Loan from Foreign Institutions (60%)
Completion Target: 2027
Status:Approved